custom logo socks
$1.6 - $6.5 each pair
Custom logo socks are a great publicity opportunity to improve awareness.
Request a Quick Quote:
Get started quickly with custom sock templates
Use the socks templates to quickly create design of your own logo sock.
Custom logo socks for your brand
Choose custom Logo socks to better reflect your company culture, and grow brand awareness. With various styles and sizes, our high quality custom branded socks are made by premier materials. They are perfect for marketing campaigns, employee gifts, fundraising and business. Our passionate and experienced team are here to work with you to easily create custom branded socks!
Design: 100% customized
Height: no show, ankle, quarter, crew, knee high, over knee high
Fabrication: jacquard/knit, printing
Color: all pantone color ok
Material: wool, bamboo, cotton, polyester, nylon, Any Material you Want!
Thickness: regular (for all seasons), thick (for winter), extra thick (for very cold)
Package: polybag(free), bands, tags, box. Any Package you Want!
Upgrades: Terry cushion, welt/cuff shape, silicone gripper, accessories(pockets), reflective, compression ribbing, embroidery, sewing. More Upgrades Available If Needed!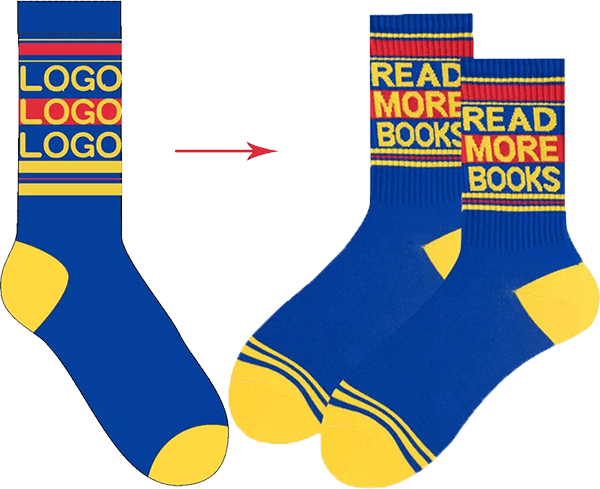 Best way to Highlight Your Company Brand & Logo
The best way to promote your brand, tile your logo on the entire sock! The logo can be placed on the calf side, front, back, foot sole or instep.
We use jacquard technology to knit your logo design with different colour yarn directly onto the socks, not printing and sublimation socks. Knitted logos are more complicated than printed ones, but they do not fade and are cotton made, which makes them more comfortable and breathability.
If you are looking for a company to promote a truly outstanding product, MyPopSox personalized logo socks are the best choice.
Start with these custom logo sock styles
Custom logo baseball socks
Make stirrup socks for baseball teams like a Pro Team and proudly display your logo at the game. Our baseball socks offer optimal comfort and are made of high quality wicking material so players can sprint at their best.
Company logo swag socks
The logo socks are the perfect giveaway for your company and can be matched with a beautiful custom logo label, and the comfortable cotton socks will definitely be a hit with your customers.
Custom logo running socks
We can provide breathable mesh designs, arch support and cushioned toe & heel for athletic running socks. The most important thing the socks knitted with your logo.
Custom logo crew dress socks
Crew length socks are the most popular socks, we knit business dress socks using the best combed cotton material and can add your brand logo.
Custom football soccer logo socks
In the World Cup you will learn how much people like the soccer game. To get your team out in the spotlight, custom team logo socks are a must.
We make custom socks easy
Work With Our Team To Design Your Sock
Not sure which sock type to order or having trouble with your design? Our design team can work directly with you - free of charge - to ensure you get the perfect sock.
We Send A Free Mockup For Approval
We do not begin any production until you approve your free digital mock-up of your sock. For an additional fee, we can also send you a physical sample of your sock.
Approve The Mockup
After completing your order, you' ll have the chance to approve a mock-up of your design. we offer low MOQ (you can even buy one pair! ), but you can also be sure you are getting the most competitive pricing without sacrificing quality.
Comfort & Durability
Our unique wick-moisture away models will keep your feet dry and comfortable, preventing blisters and injuries. And it's resistant and made to last, whether it's for everyday use or sport performance. It's so comfortable that you can wear them every day.
Socks Delivered
Once your order is complete, we will ship the socks directly to your address.
100% Customization
Your socks will be manufactured and personalized for you, based on your requirements.
Hassle-Free Ordering
NO Minimum Order Quantity Limited! Get a quick quote with no hidden fees. Payment: 50% upfront, 50% at delivery! Turnaround:1-4 weeks, standard turnaround for guaranteed deadlines
Easy Process
Send your design with the model and quantity needed. Get an instant free quote, with no obligations. Place your order: Secure credit cards and Paypal payments accepted. Get your socks: Receive your customized socks.
Free Quote, Free Setup, No hidden fees, Highest Quality, Competitive prices, Guaranteed Delivery, 100% Satisfaction Guaranteed
Frequently Asked Questions
Why make custom logo socks?
There are many reasons why you might want to consider making custom logo socks. For one, they make a great marketing tool. If you're looking for a way to get your brand out there, logo socks are a great way to do it. People love receiving socks as gifts, and if your socks are high quality and feature your brand logo, they're sure to remember your company next time they need your products or services. logo socks are also a great way to show off your company's personality. If you want potential customers to see that your company is fun and creative, logo socks are a great way to show that off. Finally, custom logo socks are simply more stylish than plain old white socks. If you're looking for a unique and stylish way to promote your brand, custom logo socks are the way to go.
All about logo socks
logo socks are a type of sock that has a logo or brand name on it. They are usually made from a cotton blend and are available in a variety of colors. logo socks were first introduced in the early 2000s and have become increasingly popular in recent years. There are many different brands of logo socks, such as Gildan, Hanes, and Fruit of the Loom. logo socks are generally less expensive than other types of socks, such as dress socks or athletic socks. However, they are still more expensive than plain socks. logo socks are often given away as promotional items or sold in packs at a discounted price. Many people collect logo socks from different brands and companies.
There's something very satisfying about finding the perfect pair of socks. They need to be the right mix of comfort and style, and they should also represent your personality. That's why logo socks have become such a popular choice for people of all ages. Whether you're a die-hard fan of a particular sports team or you just want to show your support for a local business, logo socks are a fun and easy way to do it. And with so many different styles to choose from, you're sure to find the perfect pair for any occasion. So go ahead and show your true colors with a pair of branded socks.
logo socks are the newest style of branded socks on the market. They feature a logo on the side of the sock, and they are available in a variety of colors. Brand socks are also available in a variety of styles, including crew, ankle, and knee-high socks. logo socks are a great way to show off your brand, and they are also a great way to keep your feet warm. Brand socks are made from a variety of materials, including cotton, wool, and polyester. logo socks are also available in a variety of sizes, so you can find the perfect fit for your feet. logo socks are the perfect way to show off your brand and keep your feet warm at the same time. Order your pair today!